We have been supplying our boats to Outdoor Adventure Centres, Scout Groups and the RYA Sailability Scheme for many years. Adventure Centres such as Birch Hall and Sailing Centres such as Rockley Watersports are clients that need the stability of our boats and the maximum possible weight carrying capacity for crew and kit.
They also find that the sailing experience of our boats is very relaxing for individuals who are new to sailing. Unlike a normal sailing dinghy, our boats are very forgiving, especially when tacking or jibing. Everything happens at a relaxed pace and you can sit back and enjoy sailing a traditional craft.
All our designs are RCD category C and all mainsails are loose footed for extra safety. Our classic sailing rig has a low centre of gravity which aids stability and gives a modest amount of heel when sailing. A steel centre plate can be easily lowered from the cockpit area. All models have been designed for maximum stability and buoyancy, even with a hull weight which has been kept to a minimum for ease of launching and recovering. Our Lugger has a complete weight of only 340 kilos.
Both Lugsail or Gunter rig options are very quick to rig, even our larger boats can be rigged in under 30 minutes, including stepping the mast. Launching and recovery is also very easy with our easy launch, swing cradle trailers. Our Longboat has a draft of only 1 foot. All models can be supplied with an outboard engine which sits neatly in an internal well. So, you can sail, motor or row and if you decide to camp, there is a bespoke tent to fit all models.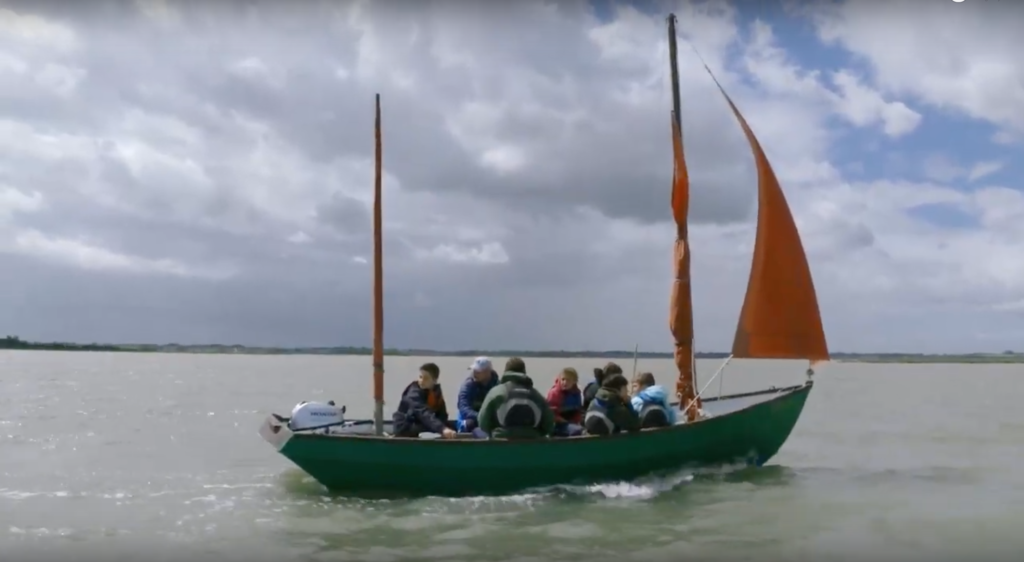 Our three most popular boats for maximum possible crew capacity are as follows:
CE marked to carry 7 crew.
LOA 18'9″.
Weight 340 kilos.

CE marked to carry 10 crew.
LOA 21′ 9″.
Weight 500 kilos.

CE marked to carry 12 crew.
LOA 25′.
Weight 800 kilos.

---
See how Birch Hall Adventures are using original Devon boats as part of their activities.